OTC 3875 OBDII Genisys EVO™ System 5.0 2013 Kit with 2012 European, ABS/Air Bag & Smart Cable and 2 month Free Identifix Direct Hit subscription $1297.00 and $200.00 Gift Card!
See kits, upgrades and pricing at bottom of this page 3874 and the NEW 3875 with 5.0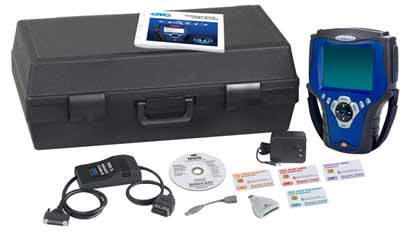 Direct Technician Feedback…
Continues to drive the evolution in Genisys diagnostics, Genisys EVO™. As an example, technicians asked for video out for projection to a PC monitor, USB communications for use with a diagnostic workstation, asynchronous DataStream with 4 line graphs per screen to better view and analyze data in real time. Genisys EVO packages these productivity enhancements in a new aggressive design.


NEW!
OTC Genisys EVO Features:
Four Graphs Per Screen

Faster Asynchronous Data Refresh

More Aggressive Over-Mold

Fresh Styling

On/Off Button
Your OTC Genisys EVO Kit Includes:
Genisys EVO™ System 5.0 featuring Code-Assist™ with OBD II Smart Cable

Automated System Test™

USA 2013 Domestic with Pathfinder, Repair-Trac™ and Fast fixes™

USA 2013 Asian
USA 2013 ABS/Air Bag software and vehicle-specific cables

European 2012 software

InfoTech

Manuals and adapters

Domestic OBD I vehicle cables (for GM, Ford, Chrysler, Jeep, Saturn)

Carrying Case
Genisys EVO™ featuring Code-Assist™
"Code-Assist™ provides over a million experienced-based Confirmed Fixes™ for vehicle specific, individual OBD-II Diagnostic Trouble Codes (DTC's). Code-Assist was developed using over 3.5 Million hotline calls to the Identifix® Repair Hotline™ and the 5 Million + Direct-Hit™ uses by Identifix customers each year. Unlike the traditional list of theoretical potential causes provided by service manuals, Code-Assist supplies validated fixes for the B, C, P and U codes actually being set on vehicles and then ranks them by frequency, designating them as Top Reported Fixes, Frequently Reported Fixes and Also Reported Fixes.
Genisys System 5.0
System 4.0 is a new software application and a high-speed compact flash card containing Power Features that will improve the performance of all Genisys scan tools.


Fast Boot

™ (Patent Pending)

Approximately 8 seconds for the new Genisys
Approximately 15 seconds for the Genisys Classic (3454 and earlier)

Quick DTC Scan

™ — automatically scans for enhanced and OBD II system DTCs in seconds


Automated System Test

™ — an extensive Health Check of enhanced vehicle controllers
Link from Mode 6 Items to Repair Info.
Link from Readiness Monitors to Drive Cycle Test Info.

Onboard Accessory/Cable List

Glossary of Terms

Enhanced Report Printing Options
Has the combined power of more than 50 System Smart Inserts.


Eliminates the need for many current and future System Smart Inserts.

Provides improved test capability and accuracy.
Bottom Line Benefits
Improved technician satisfaction
Faster diagnosis
More convenient
Higher technician productivity
Automated System Test
Automated System Test

™ is one button press to perform a Comprehensive Heath Test and report the data in a fraction ofthe time it used to take using
manual, step-by-step procedures.

A System Analysis Test Report summarizes the findings in a new menu selectable format. This new format permits fast access tojust the data you need, such as, DTC's (generic and enhanced), Freeze Frame, Mode 6 Component Test, Mode 5 Oxygen Sensor Tests, Mode 1 Readiness Tests, and more!

For additional time savings available repair information is a button press away. Pressing Enter on critical high frequency failure DTC's provides the technician with any available repairinformation for that specific vehicle.

Quick DTC Scan
Quick DTC Scan is one button press to perform a trouble code check of all supported vehicle systems in seconds. For the technicians that want a fast validation that all systems are clear of DTC's before or following a repair this is the test. Now you can test for generic and enhanced DTC's in seconds!



USA 2013 Domestic Software with 2012 European
New!

Vehicle coverage for GM, Ford, Chrysler, Jeep, and Saturn 2013 and European 2012 models including improved system coverage for earlier years. This OBD II Smart Cable compatible software also includes the NEW Code-Assist™ by Identifix™, Pathfinder troubleshooting with the NEW Code-Assist™, Repair-Trac™, Fast fixes™, Automated System Test™, Quick DTC Scan, Smart Card, manual, ConnecTech Reader, and the NGIS Windows-based program CD for downloading software updates.

Pathfinder Troubleshooting Information
Pathfinder troubleshooting information from 1992 to 2013 provides critical information at the technician's fingertips. In addition to the Repair-Trac™ and Fast Fixes™ databases

Repair information includes:
• Code information • Symptoms • Specifications• Data/sensor information
• TSB references• PCM connector information • Component location

Repair-Trac™ Tech Tips
As the vehicle fleet ages more pattern-failure tech tips are available. Many Domestic, Asian, and European older vehicle tips added. Repair-Trac is the largest database of known vehicle-specific fixes available to the automotive aftermarket. Only the NGIS scan tool has the diagnostic power and the largest repair database to help you work smarter. Check it out:

• Coverage from 1969 through 2013 for USA domestic, USA Asian, and USA European vehicles 2012.
• Aftermarket TSB's based on information from over 2 million tech service calls.
• Access Repair-Trac from the Main Menu, Data Stream, or Trouble Code menus.

Fast Fixes™ Repair Information Database
Fast Fixes is a "sister" information database to Repair-Trac. No pattern failure listed for the vehicle's symptom? No problem.Fast Fixes data provides a vehicle specific checklist of the most likely and most overlooked causes.

Systems covered:
Engine performance • Brakes • Starting • Steering • Charging • Suspension • HVAC



USA 2013 Asian Software
NEW!

Vehicle coverage for Toyota, Honda, Nissan, Mazda, Mitsubishi and more 2013 models including improved system coverage for earlier years. This OBD II Smart Cable compatible update kit also includes the NEW Code-Assist experience-based data. Asian 2013 includes the new Automated System Test™ and Quick DTC Scan feature. Kit includes the NGIS software CD, manual, and Smart Card.
USA ABS/Airbag 2013 Software and Cables
Expanded coverage for USA Domestic, USA Asian and USA European


New TPMS Quick Reference Information provides system specific test
procedures.

This is the kit you need if you are a Genisys™ owner wanting to add data
stream, bi-directional testing, fault codes and Pathfinder ABS troubleshooting, and ABS-specific cables.
InfoTech Software
InfoTech software provides the key information to take a vehicle-specific symptom or fault code to a fast and accurate repair.

Features and Benefits:
Domestic, Asian, & European vehicle coverage for vehicles on the road

Engine, transmission, and ABS systems covered.

Asian and European coverage added for component wiring, circuit
descriptions, component and control module locations.

Vehicle System Test (multiple charging, fuel, and ignition tests)

Engine Specifications

Functional Tests

Circuit Description

Component Locations

Wiring Diagrams

Connector Information

Component Specifications

Reference Waveforms

Oil Light Reset Procedures

Current Ramping Tests

Transducer Tests

Optional Add-On Software and TPR for your OTC Genisys
Super Bundle Kit 2013 Domestic/Asian 2012 Euro
OTC-3421-146
2013 Software Loyalty Kit if you have 4.0 installed or newer
OTC-3421-147
Heavy Duty Starter Kit
OTC-3421-79
3834 Tire Pressure Reset Tool
OTC-3834
3835 Tire Pressure Reset Tool Master Kit
OTC-3835
3834EZ Programmable Tire Pressure Reset Tool
OTC-3834EZ
Protective Cover
OTC-3421-102
Enjoy Tax Free Savings and Free Shipping on all Genisys Kits!
Need us to customize a kit? Give us a call 877-630-6963!

Accessories for
OTC Genisys
Scan Tools ......
Click here