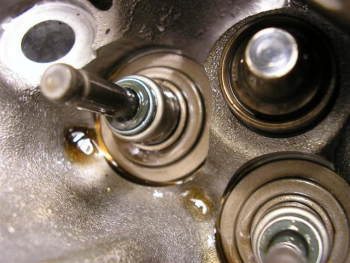 Changing valve guide seals in the vehicle.
A common problem among vehicles especially older vehicles is leaking valve guide seals.  They are a cheap item but the labor rate a shop can charge may make it very expensive.  The task of changing your valve guide seals is actually fairly straight forward and can be accomplished in a weekend with a couple special tools.
A valve seal is a simple seal.  There are several different kinds of valve seals depending on the time in which your vehicle was manufactured.  The most effective kind of valve seal is the positive style seal, this fits over the valve guide itself and is stationary.  The next seal is the umbrella style seal, this seal rides with the valve stem and prevents oil from going down the guide.  The last style of valve seal is the o-ring.  This was extremely common on older style engines and was the least effective of any of the seals.  You don't have to worry if you have o-ring style seals they were still effective at sealing the guide, it is just over time they become brittle due to heating and cooling.