Raytek Autopro ...
The Professional's Choice.
---
Raytek MT2, MT4, MTFS, ST20, ST25, ST30, ST60, ST80, Autopro infrared thermometers available online from tooldesk.com. With the Raytek Autopro infrared thermometer, gathering temperature data has never been easier. Simply point, shoot and read.
When you need an affordable and accurate infrared thermometer, choose the Raytek ST25 Autopro. Advanced infrared technology teamed with powerful optics, make the Raytek ST25 the professional's choice for non-contact temperature measurement. Innovative features like laser sighting, and a wide temperature range, make any temperature measurement application a snap.
Order your raytek thermometer online today. Orders shipped within 24 hours.
Raytek ST25 Autopro Infrared Thermometer
Features

Model RTK-ST25

Temperature Range:
-32 to 535°C
(-25 to 999°F)
D:S (Distance to Spot size):
12:1
Typical Distance to target
200 mm to 600 mm
(8 inches to 2 feet)
Emissivity:
Pre-set at 0.95
Power:
9V Alkaline or NiCd Battery
Accuracy:
±1% at 23ºC (73ºF)
Response Time:
500 mSec
Laser Sighting:
Yes Dual Spot
Display Hold:
7 seconds
Simply aim, pull the trigger, and read the temperature on the large bright display.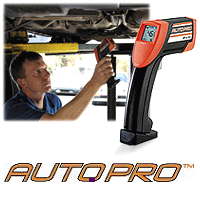 | | |
| --- | --- |
| Auto Mechanics ... | Troubleshoot engines, including ignition system problems and fuel/air adjustments. Diagnose cooling systems, including thermostats and coolant sensors; radiators; catalytic converters; brakes, and tires. Perform climate control maintenance with precision. |
AutoPro - the "Must Have" infrared thermometer for automotive technicians.

To assure accurate and convenient temperature measurement, AutoPro features SmartSight, a bright dual laser sighting system that merges into a single laser point when the unit is at the optimal distance from the object being measured. With SmartSight, a technician can easily pinpoint the actual measurement area 13mm (0.5 inches) from a close distance 200mm (8 inches), and obtain an instantaneous result with 1% accuracy.

Point

Focus

Measure




The Raytek AutoPro infrared thermometer is the first such product developed specifically with the needs of todays automotive, diesel and transportation technicians in mind. AutoPro enhances the field-proven STPro family of rugged, professional infrared thermometers with valuable features for automotive technicians:

SmartSight - bright dual laser sighting system that merges into a single laser point when the unit is at the optimal distance from the object being measured
Bright illumination flashlight - white LED that conveniently illuminates the work area when the trigger is pulled
Removable, powerful magnet - attached to the base of the unit for handy, safe storage
Temperatures up to 535ºC (999ºF)
1% accuracy



Retail Price $199.95
Questions .....

E-Mail
or call tooldesk at 1-877-630-6963


Copyright 2000 - 2006 tooldesk.com LLC All Rights Reserved. Last edited on 04/17/2006