Raytek ...
The Professional's Choice.
---
Raytek MT2, MT4, MTFS, ST20, ST30, ST60, ST80 infrared thermometers available online from tooldesk.com. With the Raytek MTFS food service infrared thermometer, gathering temperature data has never been easier. Simply point, shoot and read.

When you need an affordable and accurate infrared food service thermometer, choose the Raytek MTFS infrared thermometer to meet your demands. Advanced infrared technology teamed with powerful optics, make the Raytek MTFS the professional's choice for non-contact temperature measurement.

The MiniTempFS is calibrated to provide high accuracy throughout the Hazard Analysis Critical Control Points (HACCP) temperature range. It is designed to assure the greatest accuracy in the food critical zone of 40 to 140°F where harmful bacteria grow most rapidly. Minitemp FS is also optimized for use with organic products and equipped with a better filter detector to look through water vapor more effectively.

Innovative features like laser sighting, and a wide temperature range, make any temperature measurement application a snap.

Order your raytek non contact infrared thermometer online today. Orders shipped within 24 hours.
| | | |
| --- | --- | --- |
| | Raytek MTFS food service infrared Thermometer | |
Features
Model RTK-MTFS
Temperature Range:
-30 to 200°C
(-25 to 400°F)
D:S (Distance to Spot size):
4:1
Typical Distance to target
200 mm to 600 mm
(8 inches to 2 feet)
Emissivity:
Pre-set at 0.97
Power:
9V Alkaline or NiCd battery
Accuracy:
±2%
Response Time:
500 mSec
Laser Sighting:
Yes
Display:
Custom 3 digit - 10mm LCD
Display hold
7 Seconds
Simply aim, pull the trigger, and read the temperature on the large bright display.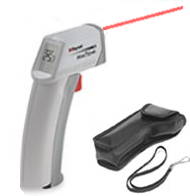 Holster not included
Auto Mechanics ...
Troubleshoot engines, including ignition system problems and fuel/air adjustments. Diagnose cooling systems, including thermostats and coolant sensors; radiators; catalytic converters; brakes, and tires. Perform climate control maintenance with precision.
HVAC ...
Balance room temperatures, monitor supply/return registers, and test duct work; examine steam traps and check furnace performance; perform energy audits.
Food Safety ...
Perform HACCP temperature measurements at receiving. Check cold and hot cooking, holding, and serving temperatures, and ensure safe and uniform storage and transportation temperatures. Maintain freezers, walk-ins, ovens, ranges, and dishwashers. Food inspectors can quickly confirm application temperatures.
Industrial/Electrical ...
Detect and troubleshoot facility electrical and process maintenance problems... before they happen, including vehicle and fleet maintenance. Check electrical panels for hot spots, find defective transformers, and detect loose electrical connections.
Also Used For ...
Roofing, asphalt, and concrete applications; commercial printing; plastics molding-, fire detection/prevention; race car, aviation, and marine maintenance
Order your Raytek MTFS food service thermometer online and save.


Retail Price $104.95