Raytek ST60XB ...
The Professional's Choice.
---
Raytek MT2, MT4, ST20, ST30, ST60, ST80 infrared thermometers available online.

Whether you choose the

Raytek ST25, Raytek ST60, or the Raytek ST80 infrared thermometer, gathering temperature data has never been easier. Simply point, shoot and read.

When the basics aren't enough, choose, the Raytek Ranger ST ProPlus for your most demanding applications. Advanced infrared technology teamed with powerful optics, make the ProPlus the professional's choice for

Raytek ST25non-contact temperature measurement.

Innovative features like circular laser sighting, a wide temperature range, and 12 point data logging, make any temperature measurement application a snap. This rugged unit with rubber over molding also includes a jack for an RTD temperature probe, and can be tripod mounted for hands-free operation.

Order your raytek non contact infrared thermometer online today. Orders shipped within 24 hours.
Raytek ST60XB Infrared Thermometer
Features

RTK-ST60XB

Temperature Range:
-32 to 600°C
(-25 to 1100°F)
D:S (Distance to Spot size):
30:1
Typical Distance to target
Up to 5m (15ft)
Emissivity:
adjustable
Accuracy:
±1%
Response Time:
500 mSec
Laser Sighting:
Single Point
Display Resolution
0.1 F/C
Recall Last Reading
Yes
Protective Hard case
Yes
Simply aim, pull the trigger, and read the temperature on the large bright display.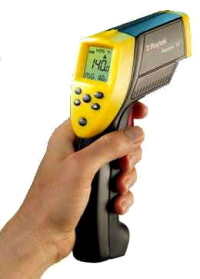 | | |
| --- | --- |
| Auto Mechanics ... | Troubleshoot engines, including ignition system problems and fuel/air adjustments. Diagnose cooling systems, including thermostats and coolant sensors; radiators; catalytic converters; brakes, and tires. Perform climate control maintenance with precision. |
| HVAC ... | Balance room temperatures, monitor supply/return registers, and test duct work; examine steam traps and check furnace performance; perform energy audits. |
| Food Safety ... | Perform HACCP temperature measurements at receiving. Check cold and hot cooking, holding, and serving temperatures, and ensure safe and uniform storage and transportation temperatures. Maintain freezers, walk-ins, ovens, ranges, and dishwashers. Food inspectors can quickly confirm application temperatures. |
| Industrial/Electrical ... | Detect and troubleshoot facility electrical and process maintenance problems... before they happen, including vehicle and fleet maintenance. Check electrical panels for hot spots, find defective transformers, and detect loose electrical connections. |
| Also Used For ... | Roofing, asphalt, and concrete applications; commercial printing; plastics molding-, fire detection/prevention; race car, aviation, and marine maintenance |
| Retail Price $349.95 | |
Questions .....

E-Mail
or call tooldesk at 1-877-630-6963

Copyright 2000 - 2006 tooldesk.com LLC All Rights Reserved. Last edited on 04/17/2006